The Buttered Home participates in affiliate programs. If you make a purchase through one of my links, we may earn a small commission. For more information, check our privacy policy and terms of use.
One of my family's favorites for me to make in the Instant Pot is Philly cheesesteaks. I use this recipe for those. Along with beautiful sourdough rolls and decadent provolone cheese slices. This dish, however, can be used any number of ways. it is versatile enough to be served even alone over brown or white rice. Like most all of my recipes, you can double it to feed more people. This is for my little family unit of 4.
In the video, I used Beef bottom round pre-sliced steak. Top round, London broil or any inexpensive cut works well here if its sliced thin. I used half a white onion and one medium green bell pepper. Also note that you can use Italian or Ranch seasoning. Both are great! The key ingredient is the beef bouillon cubes. They create an "au jus" that is divine. If you prefer a gravy, after straining off cooked meat and veggies, add a couple of tablespoons of flour and a pat of butter to the au jus on the sauté' function. Whisk continuously until you reach the thickness you desire.
For cheesesteaks, pile the meat and veggies on a toasted roll and add a slice of cheese. We like provolone. It's a good compliment to the beef. Place under the broiler for a few minutes to melt the cheese. So, So, So, Soooooo good! Use the sauce to pour over, or for dipping.
Enjoy!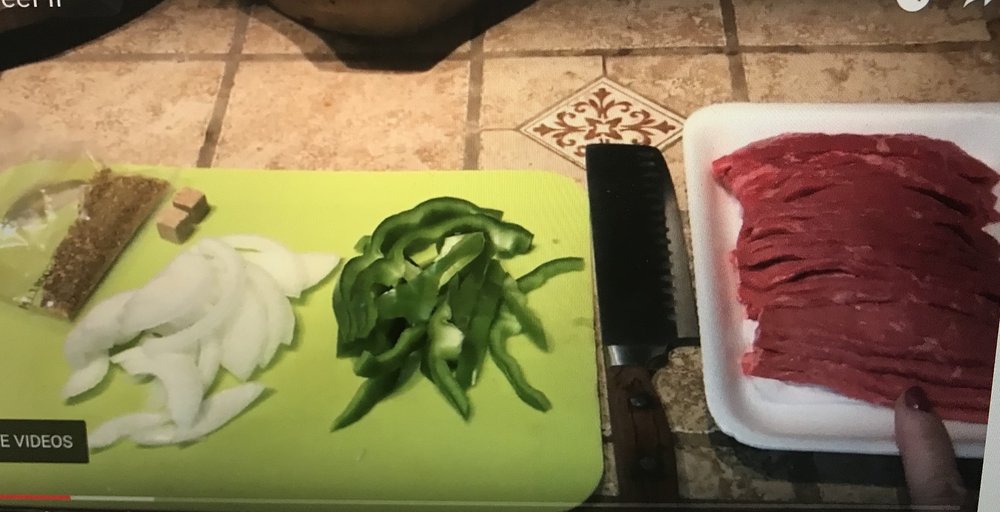 Instant Pot Sliced Beef with Peppers and Onions
Sliced Beef with Peppers and Onions. Great for Philly Cheesesteaks or right by themselves. Quick and Easy in the Instant Pot!
Ingredients
1/2 whole, sliced

Onion

1 whole, sliced

Green Bell Pepper

1-2 pounds, sliced

Bottom Round Beef Steak

to taste

Salt and Pepper

2 cubes

Beef Bouillon

1 package

Dry Italian Seasoning Mix

1 cup

Water
Instructions
Prep all ingredients. Add meat in IP first, then veggies. Sprinkle seasoning on top, add water. Seal and set manually to 40 minutes. natural pressure release and serve!
Details
Prep time:

Cook time:

Total time:

Yield:
4 servings