Roasted Spaghetti Squash is so delicious and easy. With seasonings, olive oil and a sheet pan, you can whip up this tasty pasta substitution in less than an hour! It is the perfect healthy substitute for any dish that you would normally use pasta for.
We show you how easy it is to roast a spaghetti squash. We even give you a quick and simple way to cut it. Cutting squash of this size can be a challenge but we make it as easy as cooking it!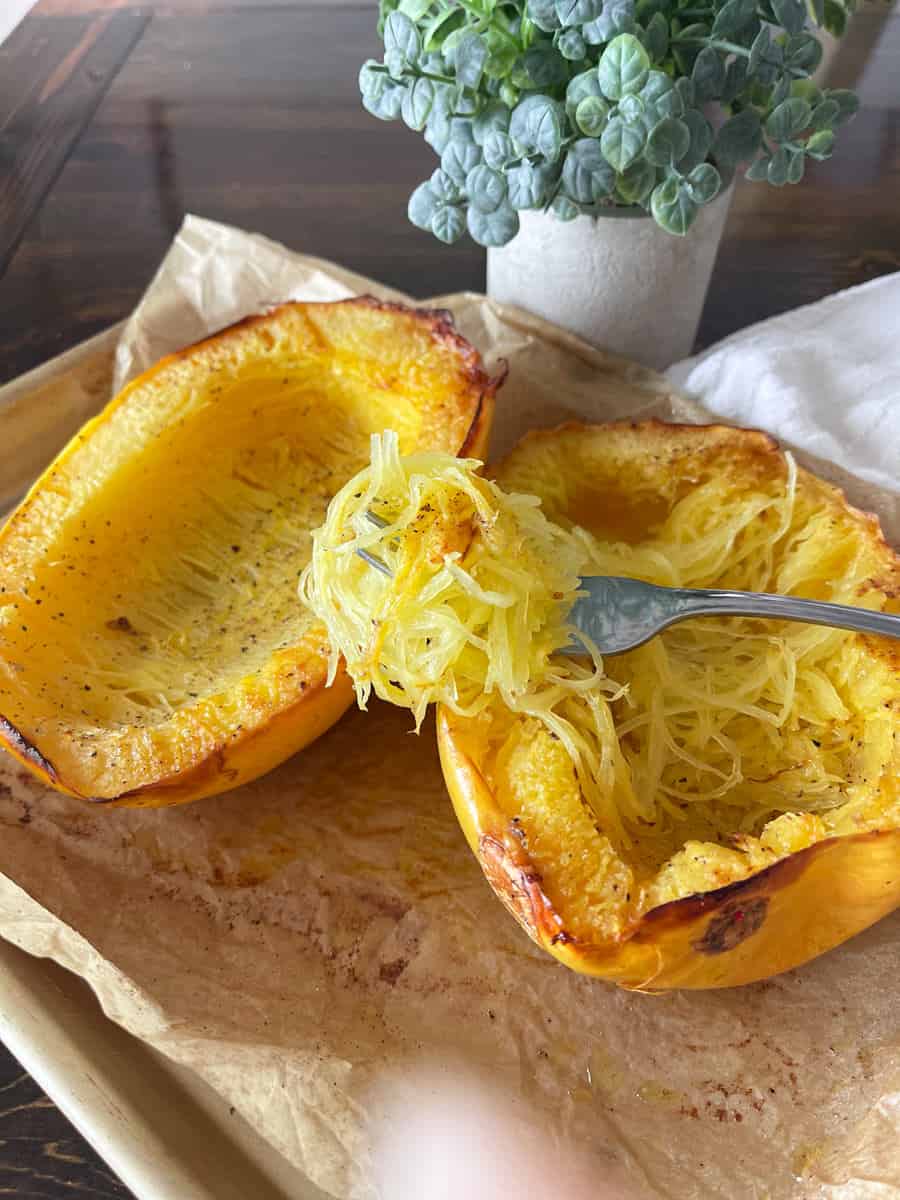 Why you will love Roasted Spaghetti Squash
Getting more vegetables in your diet can be a challenge. Especially on a busy week night. Roasting Spaghetti Squash as a substitution for any pasta is a wonderful way to get a veggie in as a healthy substitution.
If you like this healthy substitution, be sure to check out our recipes for CHICKEN POT PIE , FRIED GREEN TOMATOES, TACO SQUASH CASSEROLE and many more by using the search box and typing in "Healthy". You will be surprised at all of the things you won't miss.
How to Cut Spaghetti Squash
One of the many challenges with the larger varieties of squash is cutting them to remove the seeds and cook. With tough skin and large size, cutting them is not for the faint of heart.
Luckily, I have a trick that will help. Pop that squash in the microwave from 2-4 minutes. Carefully remove it ( it will be hot!) and it should slice easily.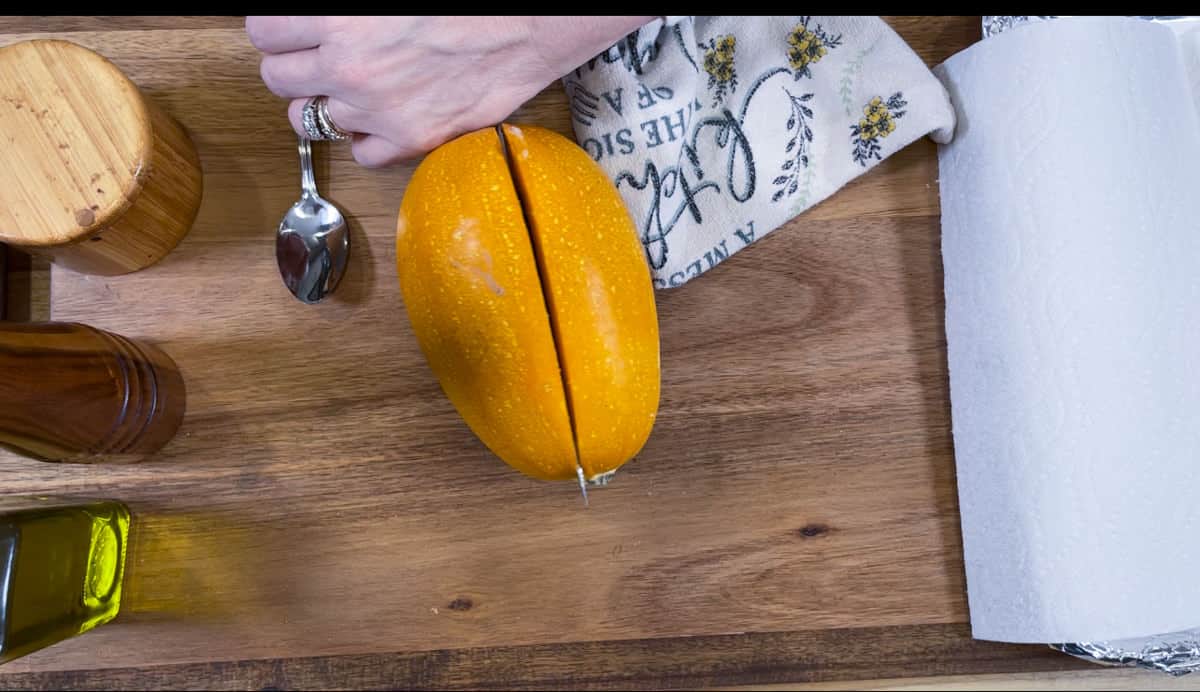 What is the best temperature to roast the squash?
We preheat our oven to 400 degrees and roast in two halves on a parchment lined sheet pan. We remove the seeds and prep the squash as you will see below, turn them cut side down and cook. Easy as can be.
How to Roast Spaghetti Squash
Here we show you how with just a few simple ingredients you can have a tasty base line squash. You can cook this ahead of time the way we do here and use different spices and flavor combinations to make it more dish specific. I roast mine and eat off of it all week. Here is how.
~ Ingredients ~
Medium to Large Spaghetti Squash
Olive oil
Salt
Pepper
~ Step by Step guide to cooking Spaghetti Squash ~
Cut the squash into two halves and remove the seeds. If you use our microwave method, be careful here as the squash will be hot.
Drizzle both halves of the cut sides with olive oil and place on a parchment or foil lined sheet pan.
Season lightly with salt and pepper. Turn the cut side down on sheet pan.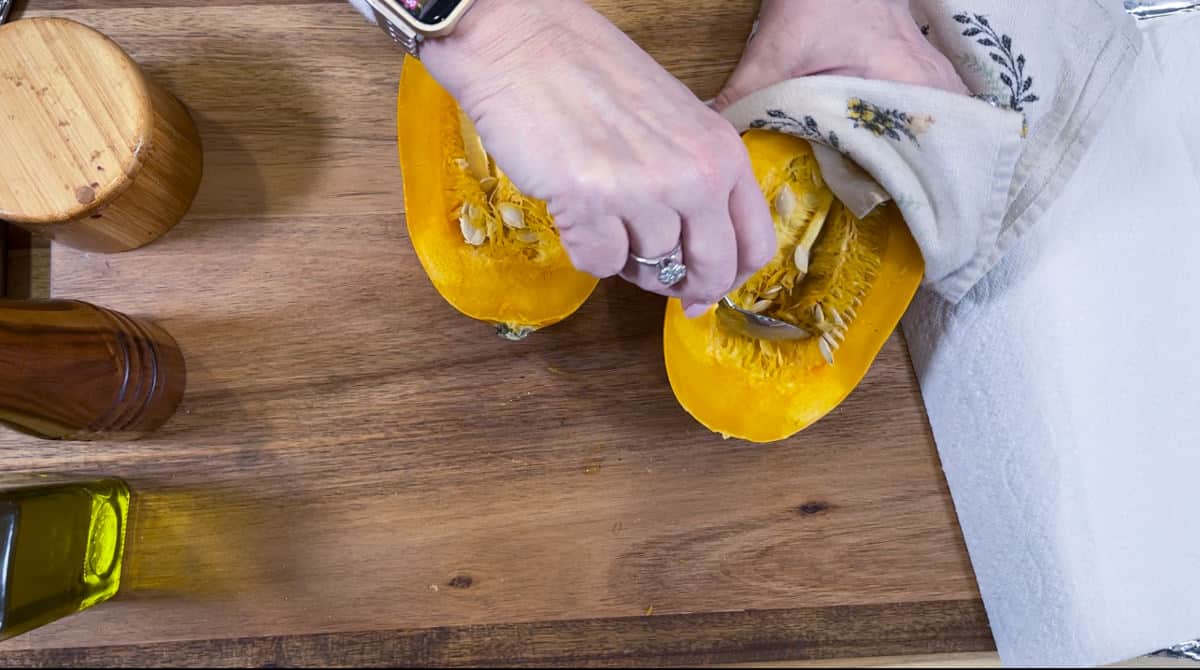 How to Remove the Squash from the skin.
Bake at 400 degrees for 30-40 minutes until the skin can be pierced easily with a fork.
Allow squash to cool for 10-15 minutes.
Use a fork to gently pull the squash in strands away from the skin.
Prepare or store as you would any pasta.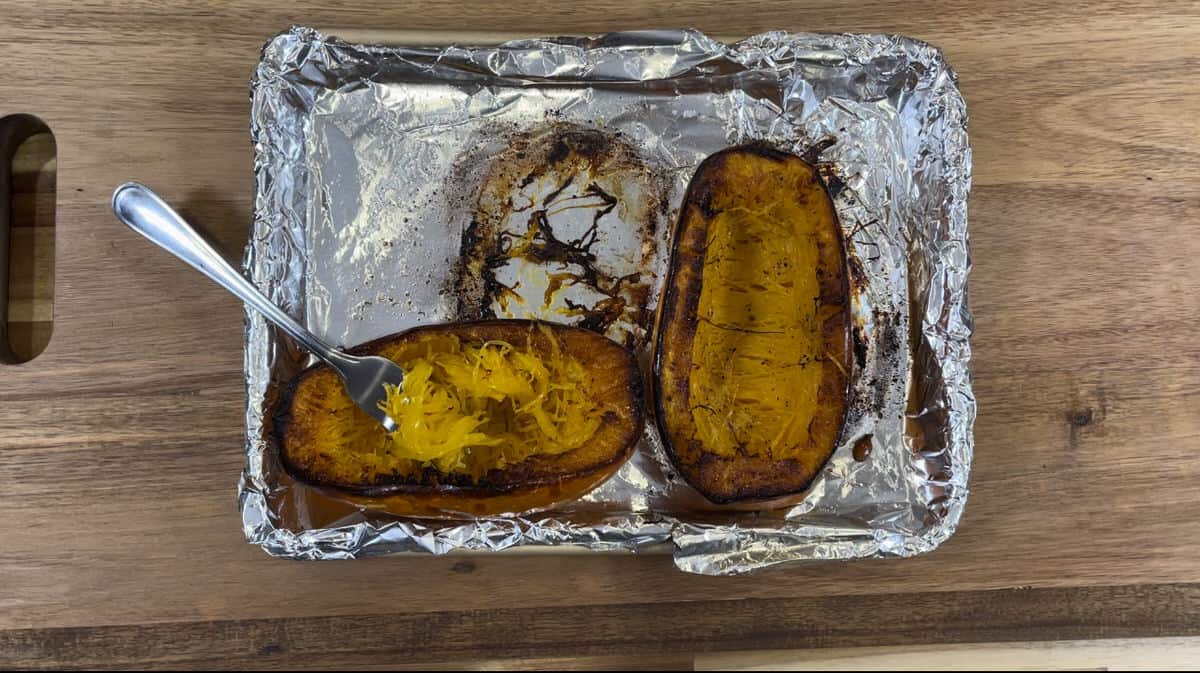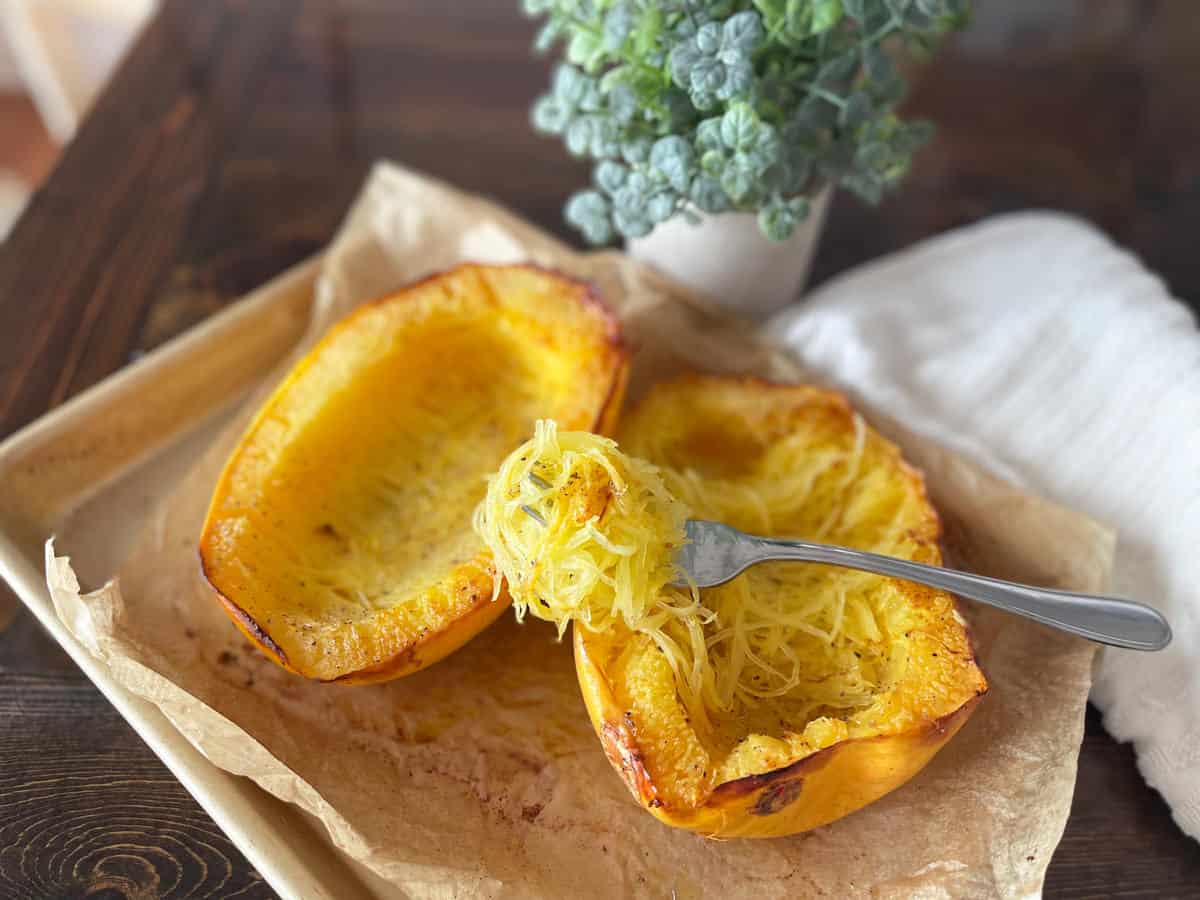 Tips and Tricks
What temperature do I roast Spaghetti Squash?
Spaghetti squash is prepared the fastest without burning by roasting at 400 degrees Fahrenheit.
Can I cook Spaghetti Squash in the Air fryer?
Yes. We recommend the same temperature of 400 degrees in the air fryer for about 20-30 minutes. Be sure to check it half way during cooking time.
Why is my spaghetti squash watery?
You probably over salted it. Too much salt can cause the squash to weep. We recommend just placing it in a strainer and allowing it to drain a bit before preparing further.
How will I know if my Spaghetti Squash is done?
The skin and body of the squash should be easily pierced with a fork all of the way through. It should not be hard for the fork to go in or come out of the skin and flesh when it has been cooked thoroughly.
Does Spaghetti Squash taste like pasta?
The secret to that is in the seasoning. When using with sauces, it does hold on to the flavors of the sauce so the earthy squash taste does get less. The texture is not the exact same as pasta but as with any other healthy substitution, it will grow on you. It is not slimy or even tough.
Ways to use Spaghetti Squash
Simply put, spaghetti squash can be utilized any way you would use any pasta. Spaghetti is a traditional way using any sauce you like. I use it as a base in ways I would normally use rice or mashed potatoes. You can cut it in small pieces like rice or even mash it like mashed potatoes.
It does the same job as pasta in the way it holds on to sauce so it is a very good substitute. If you use it for anything, we would love to hear from you so be sure and let us know how you used it and if you loved it!
We also love making casseroles with it. Just like this SPAGHETTI SQUASH GRATIN. We really love to show you the basics of cooking in your kitchen. This simple how to opens the door to how to handle all varieties of tough skinned squash. If you like these kitchen quick fixes, check out my friend Cindy's post on HOW TO REHEAT STEAK IN THE AIR FRYER. This method makes your cooking life so much easier!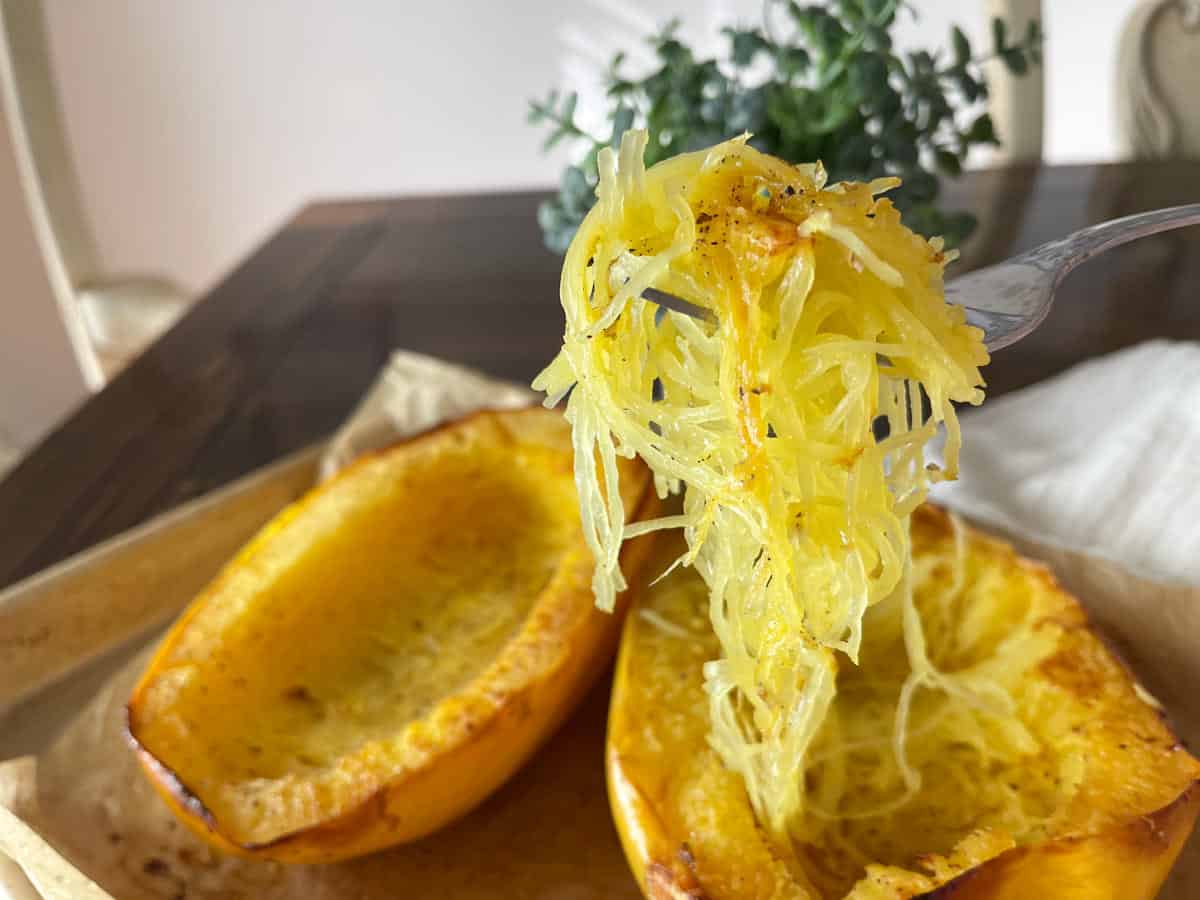 Sharing Roasted Spaghetti Squash
If you make this recipe, be sure and post it to Facebook or Instagram and tag us. We love pictures of food. Also, if you pin this recipe, we would appreciate that when you make it, you use the Made It function in Pinterest too.
And as always, we would love it if you shared this recipe with your family and friends. Over to the side on this post and all of the others are handy dandy share buttons. We would sure be grateful if you shared the love!

Stuff We Used!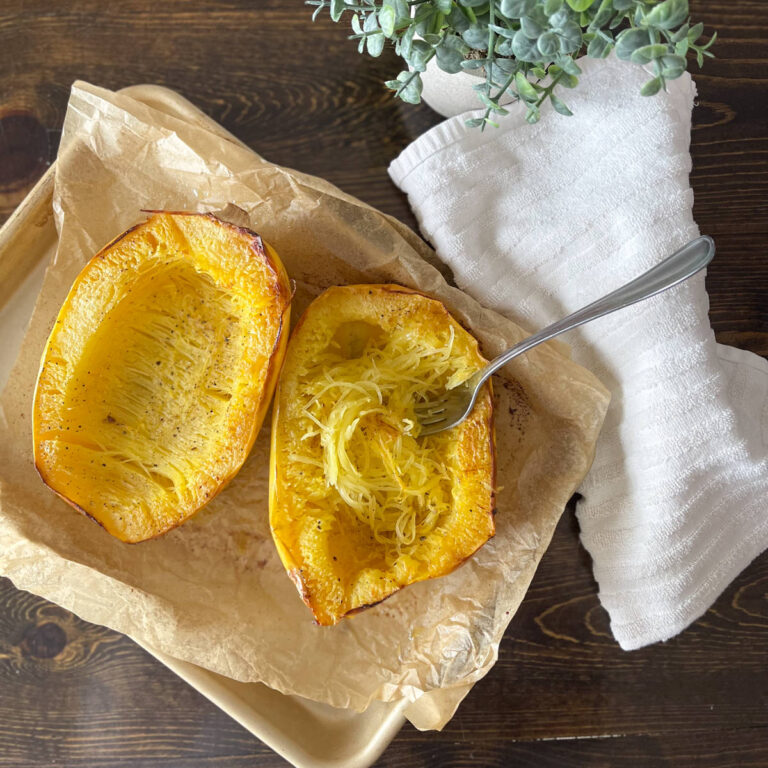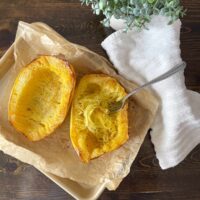 How to Roast Spaghetti Squash
Learning how to cook and roast spaghetti Squash was never easier. We show you how to prep and cook this wonderful vegetable substitute to keep on hand as a substitute for pasta any time you want it.
Print
Pin
Rate
Ingredients
1

medium to large Spaghetti Squash

1 to 2

tablespoons

Olive Oil

½

teaspoon

salt

¼

teaspoon

pepper
Instructions
Preheat oven to 400 degrees Fahrenheit.

Carefully slice Squash in half, lenghwise. Remove seeds from the center.

Drizzle both halves with olive oil.

Salt and pepper each half and turn face down on a foil or parchment lined pan.

Bake at 400 for 30-40 minutes until a fork pierces all the way through skin and flesh easily.

Cool and pull squash away from skin with a fork. Store and serve as you would pasta.
Notes
* To Make cutting spaghetti squash easier, microwave for 2-4 minutes until you can safely and easily cut in half.
Nutrition (all values are estimates only)
Serving:
1
serving
|
Calories:
83
kcal
|
Carbohydrates:
10
g
|
Protein:
1
g
|
Fat:
5
g
|
Saturated Fat:
1
g
|
Polyunsaturated Fat:
4
g
|
Sodium:
205
mg
|
Fiber:
2
g
|
Sugar:
4
g
Love this Recipe?
Be sure to comment and Rate this recipe!